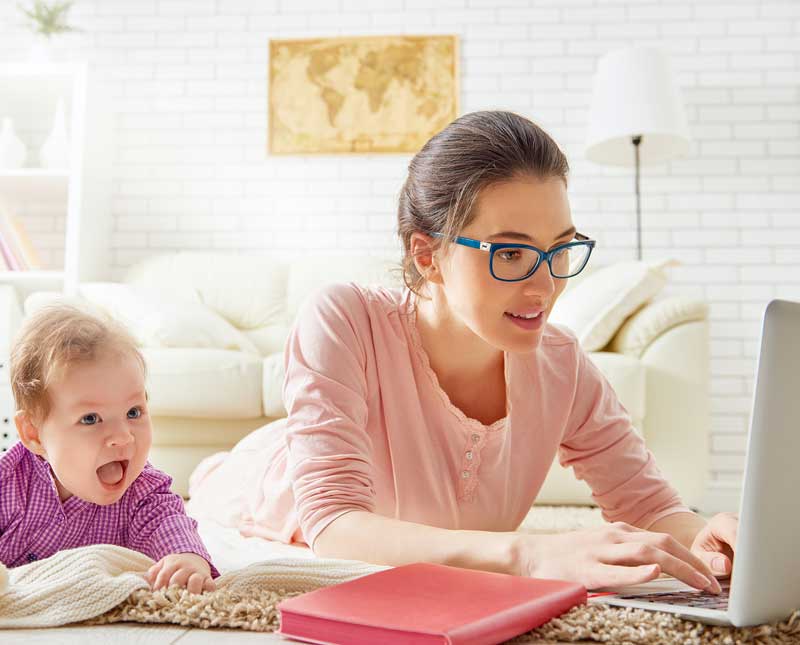 Majority of moms would want to stay at home and earn a living, while taking care of their kids. Every mom has this dream of being able to juggle her time between her kids and her work – successfully.
But not everyone is lucky enough to do just that.
It was also Miriam's dream.
She had worked previously in a department store, before she got pregnant with her youngest child. Her baby was only a month old, and she couldn't possibly go back to her previous job, albeit work was beckoning. Her baby needed her at that precise moment in time.
Her husband, Allan, was a sales manager in a clothing company and was earning just enough for the family to survive. Allan was contented having Miriam at home to attend to the kids, despite the fact that he had to work overtime to make both ends meet.
Miriam had a knack for writing though, and she was aware that people had earned big money online by writing. She knew she can do it as well.
Thus, she started browsing writing sites online to sign up with. She had chosen one that had good reviews, and applied as a publisher straightaway. With her credentials as a former editor of her college paper, she quickly gained employers from all over the world.
She worked during her most convenient times, when the two kids were asleep, writing about SEO articles, eBooks, and many other topics that the employers asked for.
There was a time when Miriam was working and her husband woke up in the wee hours of dawn. She saw her typing and asked, "Hey babe, what are you busy with? Get some sleep," he stated sleepily.
She had hidden the fact that she was writing from her husband, afraid he might stop her from doing something she enjoyed. She was earning good money too by that time that she didn't want to stop.
"Hon, go back to sleep. I'll be done in a minute," she stood up and gently pushed her husband back to bed.
Allan obediently went back to bed and returned to his peaceful slumber. She glanced at his handsomely chiseled face and saw creases of worry on his forehead. He must have been worrying about our next bills, she thought.
By next month, she would be able to help him in their finances. She went over to the bed and pulled the sheets up his chin. He never complained, but she knew it was getting harder for him to finance the family's needs.
It was 2 a.m. when Miriam finally finished writing the eBook. She was only a ghostwriter, and her name won't appear on the book's cover. There were several eBooks she had already written, but under different names.
"You ought to put your name on the cover of the books you wrote," her friend, Donna, said to her one day, when she came to learn about her job. "They're earning more than you do."
Donna was right.
But if she authored the books she wouldn't have enough networks to sell her books. She wasn't confident she would be able to sell them.
"It's difficult at first, but soon you'll get the hang of marketing," Donna insisted, when she visited her again. "C'mon, you must have the courage to do it."
They talked more about how she could broaden her network, when Donna declared, excitedly.
"What about using a Live Chat Service? You can create a website, display your books there and advertise your services!"
They both got thrilled. "You mean a chat box app?" Miriam asked; her pupils as big as almonds.
"Yeah, and here's good news. I saw a company offering a 15-day trial period."
"Oh, reallyyyy?"
"Yup, really."
"Let's do it now, while you're still here. I don't know how to create a website," Miriam suggested.
Thus, they went about creating Miriam's website. In the upper right hand corner of the website they posted Miriam's bio and the services that she offered.
Next, they contacted the Live Chat Agents website and signed up for the free trial.
"Do you think it will succeed?" Miriam was anxious.
"Of course, it would succeed, but not immediately. Like all businesses, you have to wait for the business to grow."
Miriam was contacted the following day by the Live Chat services and the dedicated account manager interviewed her about her website.
After a long talk, the manager went to work. A few days after, the Live Chat was set-up on Miriam's website.
It was a memorable day! The kids were cheerful and happy, and Miriam had to call her husband at work to inform him of her momentous day.
The website had a pink, lovely theme and the graphics were beautiful and catchy. At the lower, right hand corner was a dainty-looking Live Chat Box App. It was a wonderful sight to see. It popped up as soon as Miriam accessed her website.
"I'm seeing it at my end," her husband smiled at the chat cam and gave her a thumbs-up. "This is wonderful. Now you can do what you love most and take care of the children too" he cheered her up.
"Thanks, hon," Miriam's eyes were wet with tears. "Thanks for your encouragement."
Miriam's heart was overflowing with happiness. She can finally make her dreams come true.
The Live Chat Agent greeted Miriam: "Hi, how may I help you?"
Miriam read the message. Miriam was happy to see that the Live Chat app was working indeed.
The next days, things became busy on Miriam's website. Visitors increased in number and the Live Chat Agent and visitor engagement increased. Soon, Miriam was beginning to receive writing offers through the Live Agent.
After 2 weeks, she posted her first eBook on her own site. It was a great achievement for her. The Live Chat services had helped tremendously in engaging the visitors, who later became regular clients.
Miriam was thankful to Donna who had helped her establish her website and her online career. Of course, she wanted to be thankful too to the Live Agents who had been instrumental in the increase of her visitors-turned-clients.
Without the Live Chat app, she knew she may have still succeeded, but not as quickly as when the Live Agents were there.
She knew her business will continue to grow and earn significant income in the days to come, with the help of the Live Chat Agents. They have worked hard as well in converting her visitors into consumers, and she appreciated their dedication and expertise.